I began making miniature food from polymer clay a couple of years ago for my Victorian dollhouse. I made more than I needed to fill my miniature kitchen, but couldn't stop making them. So I just carried on. It's a great hobby, but very addictive. I am happy to be part of the Guild and enjoy looking at all the fantastic things other members have made from polymer clay.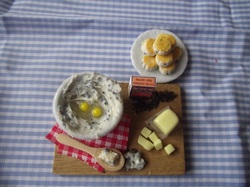 Food Board
I have just started making food preparation boards. I have used yellow clay for the egg yolk and clear liquid Fimo poured over this to resemble the egg white.
Fruit Pies
The fruit fillings were made from a mixture of polymer clay, liquid Fimo and coloured chalks. I used a Fimo varnish and amber glass paint to create a burnt effect. The pie was decorated with layers of individual clay leaves.
Choclate cakes
A few layers of varnish were used to achieve realism. Again I have used tin foil and a pin to create the inside texture of the gateaux.
Cake Mix
The bowl of cake mixture was made with 'ground down' polymer clay and liquid Fimo and then stirred in the bowl. I tore the clay apart to create a textured ice-cream effect.
Bread
The bread has been coloured with pastel chalks and the flour effect achieved with white chalk. I used crumpled up foil and a small pin to texture the bread. The butter was spread when the clay was still warm from the oven.
Lemon Cake
I used quite a bit of translucent polymer clay for the icing effect. A miniature fork was used to take away a piece of the cake slice. I did this when the clay was warm. The tea is made from Liquid Fimo and coloured chalks.
Cakes
The fruit cakes were textured with semolina and black sand. I used quite a bit of ochre for these cakes. The Dundee cake was topped with sesame seeds and then a layer of glass paint to make it realistically sticky.